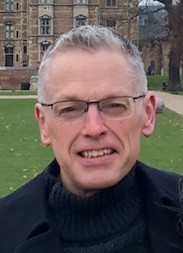 Marc D. Peltier
Managing Member
Mr. Peltier is a results oriented, business leader with more than 30 years of operations experience and 20 years of experience leading large, complex, worldwide operations in challenging, often harsh and hostile environments.  Marc is a detail-oriented leader, team builder, and outstanding communicator focused on maximizing business efficiency and results.  Marc has a strong history that demonstrates long-term professional and business performance.  He has led contracts valued over 1 Billion USD that have included 9,000+ personnel in 20+ countries.  He is experienced in leading national security, contingency, and training operations.
Since 2013, Marc has led Torden LLC as its Managing Member.  Torden is a Service-Disabled Veteran Owned Small Business (SDVOSB) headquartered in New Bedford, Massachusetts.  He is directly responsible for leading day-to-day operations, management decisions, and for implementing long and short-term business plans and strategy development.  Torden maintains prime contracts with the Department of the Army, Department of the Navy, and the Veterans Administration.  Marc leads a team with a long history of delivering sound, consistent, language solutions.
From 2007 – 2012, Marc led Mission Essential Personnel's (MEP) global operations in 14 countries to include the Horn of Africa, Afghanistan, Iraq, the Middle East, and South America.  During this time, he was responsible for 8,500+ personnel.  From 2009 – 2012, Marc was MEP's President and Chief Operating Officer.  Marc led MEP's Operations and Sales organization to record growth in 2012.  From 2007 – 09, Marc was MEP's Senior Vice President for Operations & Administration.  During this time, he was responsible for day-to-day leadership and oversight of Human Resources, Logistics, Recruiting, Security, and Operations.
At MEP, Marc also served as the Managing Director of MEP, GmbH (i.e., Germany), the Legal Representative of MEP srl (i.e., Italy), the President of MEP ULC (i.e., Canada), and the Vice President of MEP Afghanistan.  He coordinated the establishment of business entities in Bahrain, Qatar, Kuwait, and Iraq.
Prior to joining MEP, Marc served as the Senior Vice President and Division General Manager at L-3 Communications in Reston, Virginia.  There, he led the U.S. Army Intelligence and Security Command's largest services contract, as well as L-3's largest single contract.  He was responsible for a $4.63 Billion support services program to include a staff of 10,000+ employees in 24 countries.  He provided direction and oversight to worldwide operations in support of the U.S. Department of Defense's current intelligence and contingency operations.  Prior to L-3, he was a Vice President and Division General Manager at Titan Corporation.
Marc received Bachelor of Arts Degrees in German and History from the Virginia Military Institute and a Masters' Degree in National Security from Georgetown University.  He is an alumnus of Middlebury College's foreign language school, as well as the University of the Federal Armed Forces (Universität der Bundeswehr) in Hamburg.  He is a graduate of the U.S. Army Infantry School, the U.S. Army Chemical School, and the U.S. Army Intelligence Center and School.  Mr. Peltier has also taken business classes at Harvard Business School and the University of Chicago's Booth School of Business.  He is a retired Military Intelligence officer.
Marc is married to the former Katherine Olsen of Westport, Massachusetts and has two sons.  In his off-time, Marc is a registered USA Hockey (Level V) coach, coaches high school ice hockey, and enjoys downhill snow skiing.  Marc is fluent in written and spoken German.